Awards & Media
Awards

Dr. Shah was featured in Forbes Magazine October 2008 as one of the Ten Most Dependable™ Plastic Surgeons of the Western United States as determined by Goldline Research.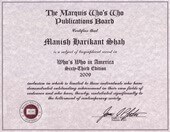 Dr. Shah is proud to have his biography included in the 2009 edition of Marquis Who's Who in America.
Media
Active FX Laser Brings Hope to Badly Burned Hero
See Dr. Shah discuss the use of the Lumenis Active FX laser for reduction in the appearance of aggressive scarring from burns and other trauma.

Selphyl - The "Vampire Facelift" comes to Denver, Colorado
Watch Dr. Shah discuss the newest advance in facial filler, using your own blood to fight wrinkles and restore lost volume!